Before the term food stylist was introduced in the 1950s, my job was called home economist, and the people doing it were women working in test kitchens for women's magazines and food companies. When adds changed from illustrations to pictures, the name of the job also changed.
However, here in Spain there's not a Spanish word for my job, so they choose to call it…. home economist. Funny people.
---
Here's a little recipe of my lunch yesterday. I almost always have cooked rice and leafy greens in the fridge, so bowls like these are super easy to whip up!
Japanese sushi bowl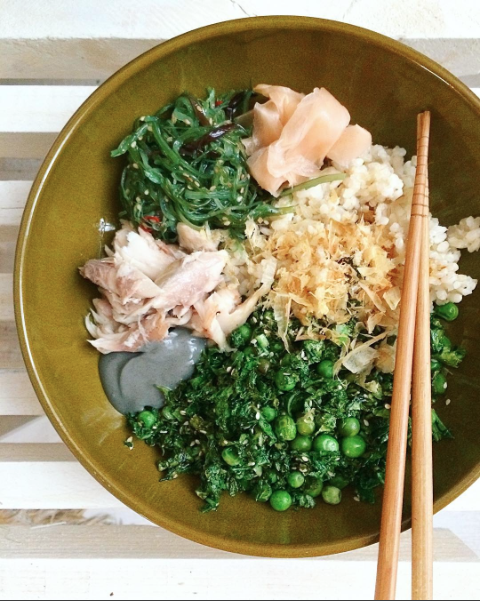 For 1
1 cup cooked brown rice
1 cup leafy greens (I used kale, but spinach is also yummy)
Handful of frozen peas
1/2 cup smoked mackerel or other smoked fish
Wakamé (Japanese seaweed salad)
Pickled ginger
Bonito flakes (dried tuna flakes)
Black garlic mayonnaise
1 tbsp sesame seeds
2 tbsp ghee (clarified butter, or use olive or sesame oil)
2 tbsp soy sauce
Chop the greens and melt the ghee in a skillet. Sauté the greens until slightly wilted and add the peas. Toss and add the soy sauce and sesame seeds.
Make up your pretty bowl by placing all ingredients side by side, and dig in!